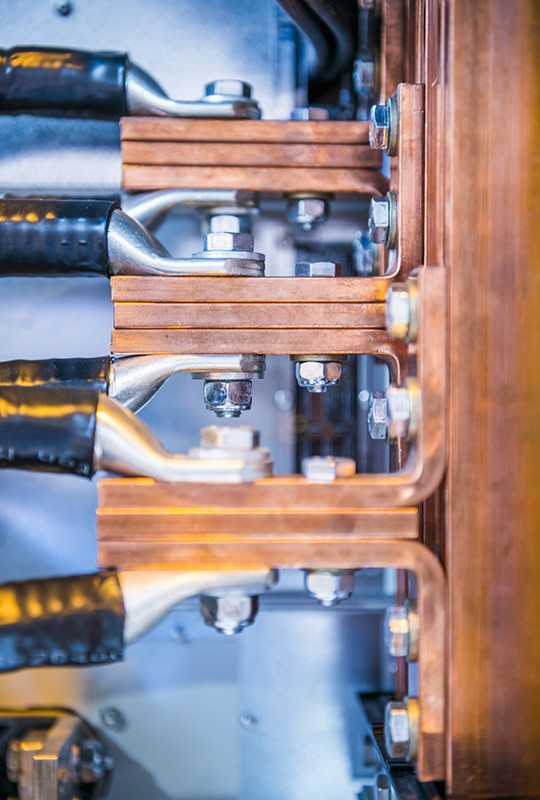 LOW VOLTAGE SWITCHBOARDS, up to 690V
• Compliant with relevant directives and regulations,
• DNV, ABS and similar type approvals are part of the delivery.
• Ratings up to 100KA may be delivered.
MOTOR CONTROL CENTER (MCC), up to 690V
We are able to provide the safest power distribution systems available, with maximum protection against mechanical design and constructive accidental arc faults. The ultimate safety version limits the effects of an accidental arc to the compartment in which it originated, ensuring maximum personal protection.
MV SF6-GAS INSULATED SWITCHGEAR, up to 24kV
Modular switchboard design with a wide range of features.
• Circuit breaker panel with vacuum circuit breaker
• Disconnector and earthing switching
• Longitudinal section coupling with vacuum circuit breaker
• Riser panel
• Measuring section
• Busbar measurement
• Busbar earthing
AIR-INSULATED MV SWITCHGEAR, up to 12kV
•Modular design with a wide range of features
• Circuit breaker cabinet with vacuum circuit breaker, extendable
• Coupling cabinet with vacuum circuit breaker, extendable
• Riser panel with and without measurement
• Busbar measurement cabinet with and without busbar earthing
• Motor feeder with vacuum contactor, extendable